As a teacher, there are two distinct phases of my career: life before and life after Google Forms.
A little background – my graduate school work focused on using reflective practices in the classroom to promote critical thinking. Which is great…until you have to collect and process all of that reflective writing. It can pile up pretty quick. I cannot overstate how much Google Forms has made life easier for me to collect data (e.g., polls, exit slips, journals). You can administer quizzes with Google Forms. Heck, they can even make it easier to plan for the next field trip.
You can create a variety of response types including open-ended, multiple choice, scaled response (e.g., rating 1-5) and more. You can even insert pictures or videos.
Share the link via email or post to Moodle, Edmodo, etc.
Respondents do NOT need a gmail account.
The best part, all of the responses are automatically compiled in a Google sheet (i.e., Excel-type sheet) in your Google Drive. You have the form automatically collect student id's with one click, and all answers are time-stamped. You can view the sheet to see each students' response or you can create a summary response. I have found summary responses to be especially useful for journal type responses and survey polls.
Even better best part, the newest version of Google forms provides automatic data visualization (e.g., pie charts, graphs, etc.) of the responses.
Here are some examples from my class this year.
Collecting feedback at the end of a unit or project
Collecting lunch menu selections for a field trip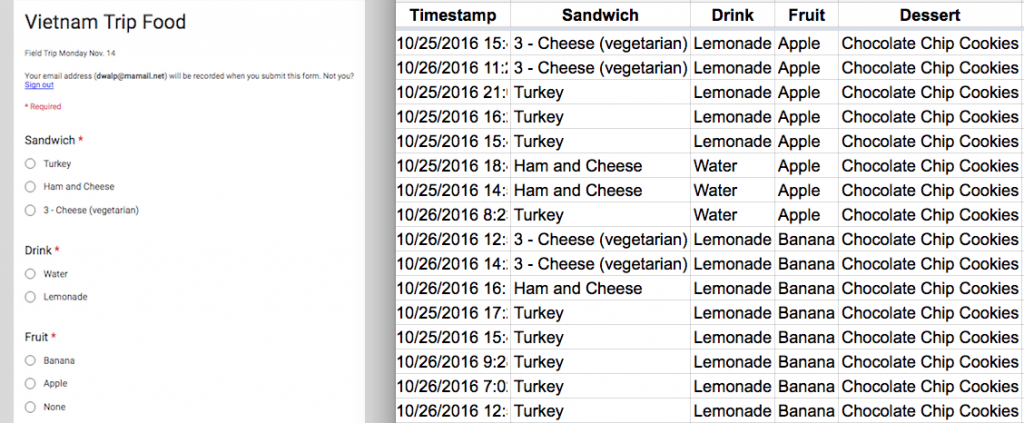 Take a quick poll for fun or to support class discussion
What should you do next?
Do it. Use Google Forms. Here are some resources to help you get started.
Google Learning Center: Getting started with Google Forms
Educational Tech and Mobile Learning: Google Forms for Teachers – A Must Read Guide
Tech Tips for Teachers: 4 Ways to Use Google Forms
Chalkup: How to Create Quizzes Using the New Google Forms
Thanks for stopping by – leave a comment!
Do you use Google Forms already? What is your favorite or most useful Google Form feature? Do you have questions about using Google Forms?